Free-Range Writing Circles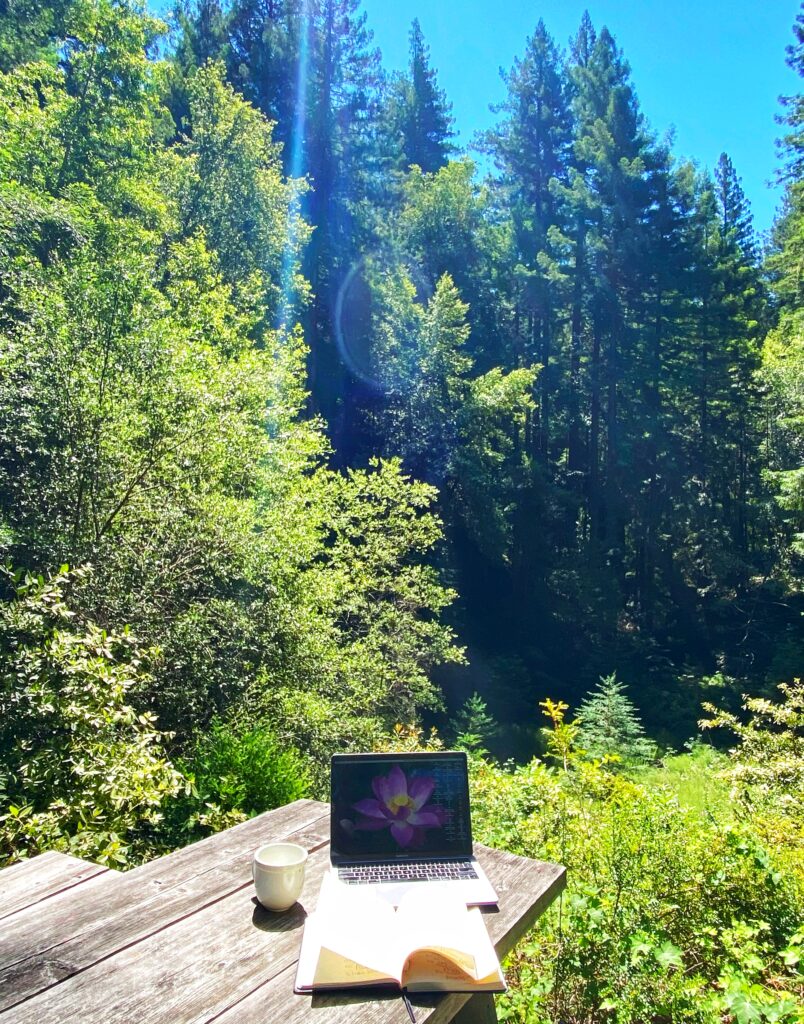 What is Free-Range Writing?
Free-Range Writing is a transformative timed writing process that we use to uncover the stories we yearn to tell and a way to make meaning out of our lives. It is inspired by the Wild Writing ™ practice created and taught by my dear friend and writing instructor, Laurie Wagner of 27 Powers.
What are Free-Range Writing Circles?
Free-range writing circles are nonjudgmental places where transformation and healing can take place. It's a simple process: listen, write, read, and witness. We learn to bypass the critical mind and let the pen fearlessly take us where our soul leads. This space is intimate, safe, and sacred. There is no judgment here. No critique. There is no pressure to write well, only to write truthfully.
In Free-Range Writing Circles, we write as fast as we can, for 15 minutes, pen never leaving the page. By writing so quickly, we are able to push past our inner critic, our ego, and all the ways we stay trapped when we're trying too hard to look or sound good. With permission to write as poorly as possible, our bellies hanging over our pants, we're able to say "yes" to the words and stories coming through us.
The practice is simple but the magic that happens when we gather is anything but. There is no judgment. No critiques. We simply write, share, and bear witness to others as they courageously do the same. As my friend Angela aptly puts it, there is no pressure to write well, though we may end up writing ourselves well.
Classes are for anyone, whether you're a novice or published your third book. The practice is extremely therapeutic and can be a powerful practice for anyone facing an illness or difficult challenge, which is why these writing classes are often taught in medical settings.
Free-Range Writing is also a fantastic way to jumpstart any writing project because the practice can help you peel back the layers and get to the meat of what you are trying to say.
And if you're simply yearning to be part of an intentional community that values honesty and authenticity during these crazy, uneasy times, these writing circles are for you. Come find yourself and your people.
Free-Range Writing Classes and Healing Circles are small by design. Like witches in a coven mixing a brew, we gather (in person or online), each of us bringing our own unique ingredients to the cauldron. Our lives. Our stories, Our grief. Our hopes. We can't mix the brew without you. Will you join us?
UPCOMING WRITING CIRCLES, HELD WEEKLY IN REAL-TIME (online)
Free-Range Writing Healing Circle for patients and survivors (Mondays 11 am-12:30 pm PST) May 6th-20th * ALL SPOTS FILLED *
A TASTE OF FREE-RANGE WRITING SUMMER POP-UP CLASSES (online)
If you're brand new to the practice, please arrive at 10:45 for an orientation.
Tuesday, July 19: 11 am-12:30 pm PST (10:45 orientation for newcomers)
Tuesday, August 2: 11 am-12:30 pm PST (10:45 orientation for newcomers)
Tuesday, August 9: 11 am-12:30 pm PST (10:45 orientation for newcomers)
Interested in seeing how a writing healing circle works? Sign up for one of my free sessions this summer to get a juicy taste of the practice. All sessions are 1 1/2 hours long. Only a few spots left.
If you're interested in participating in one of the upcoming sessions, email me at meeshahalm@gmail.com to get on my mailing list.
UPCOMING WRITING CIRCLES, SEPTEMBER-DECEMBER
Ready to commit to becoming an ongoing part of this intentional writing community? The next round of 12-week-long healing circles will run September-December 2022.
Session 1: Tuesdays, 11 am- 12:30 pm PST
Session 2: midday or evening session TBD
Registration opens in August! Watch this space or email me at meeshahalm@gmail.com to get on my mailing list.
Here's what students are saying about my writing circles:
"Meesha's Free-Range Writing circles allow me to drop into feelings and thoughts and put them on the page with no fear or concern about whether what I write is good enough. When I hear other participants share their short pieces I am touched by their vulnerability and it gives me permission to fully express myself."

— Lauren T. Meyer, PainterDancer, artist, and creative facilitator
In addition to being a graduate of Laurie Wagner's 6-month-long Wild Writing Teacher Training, I am also a certified facilitator for Facilitating Stories for Impact, which focuses on relational and generative storytelling processes and how to cultivate intentional spaces for human connection. FSFI equips participants with the critical skills and unconscious bias training needed to cultivate generous listening, intentional witnessing, and authentic sharing in their facilitation practice, as well as create opportunities for stories to connect to listeners on a deep and transformative level.